Nowadays, companies and agencies have also hired a lot of professional video editors, which is also important in some ways. Whether it's digital marketing or executives on social media, video is indeed everywhere! Video marketing has become one of the most effective ways to connect with your audience. Videos when done right, impact people better than articles. This is why video-making apps are so popular these days.
I am not sure if you are aware or not that the video editing process is not as difficult as you might think. If you want to make a professional video, consider certain elements. Video editing has become an easy task, whether you are a freelancer just starting a career or someone looking to edit travel or vacation videos.
For example, if you were a well-known social media influencer, wouldn't you hire someone professional in video editing to make the reels or videos in your feed look great? But if you've hired someone to do the job before, you don't have to!
In this article, we will look at the FlexClip video maker that has made it easy for people to create videos for social media without any editing skills. Even if it's your first day editing a video, you won't find it as difficult as you think! Every feature is easy to use, and on top of that, you get the free version forever!
What is FlexClip
FlexClip is an online video editor tool, and it can be used to make various videos on social media platforms. Whether it's a YouTube video, an Instagram IGTV video, a Facebook short video, or a TikTok video, you can use this platform to make videos with the usual editing skills!
Trusted by renowned professionals like Microsoft, Google, Dropbox, Storyblocks, Unsplash, and Dropbox, this software is popular among beginners and experts and it is an excellent choice for semi-professional editors.
You don't need any expertise when you have premium software like FlexClip. The tutorials and guidebooks on the blog are sufficient to help you understand this tool. Apart from that, you also get a two-in-one mode for editing and creating videos from scratch.
The first is a simple storyboard for beginners, and the other is a timeline mode for the advanced. You can choose a suitable model according to your needs. If you're new, you can use a simple storyboard and then switch to timeline mode when you get used to the software.
In a word, FlexClip video maker is a great tool for beginners who want to create high-quality videos without much hassle. While users usually don't have to register to use this tool, they do need to log in to download or save videos.
FlexClip is a great online video editor to create various types of videos, be it short promotional videos for Instagram or causal birthday videos. To create a new video project in FlexClip, you have two options, Create with templates or Start from scratch. If you know nothing about video editing, you should select the Create by templates option.
However, if you have some video editing experience, you can always choose the "start from scratch" option. You can create videos for various social media platforms like Instagram, Snapchat, Twitter and Youtube. The video aspect ratio provided in the tool is (9:16), (1: 1), (4: 5), (6: 9), (21: 9). One of the highlights of this editor is the stock media option. Here you can find unlimited videos, pictures, and music that you can use in your videos. you can easily get discount on Black Friday on video editing tools.
What Can You Do With FlexClip
FlexClip is an excellent service for making online videos using a series of templates with audio and much more ready to use. Furthermore, there are other interesting tools. FlexClip is a web platform that aims to provide a basic video editing service with ready-made templates, so you can have fast and impactful results.
Among the thousand functions, the one that most caught my attention is linked to the possibility of creating specific Ad (advertising) videos for the major social networks such as Instagram, Facebook, Youtube and Twitter. This video maker has simplified video creation thanks to numerous features available in this tool.
Cut And Split Videos
We don't need a huge video to express our intent most of the time, and rather just a tiny portion of it does the job well. This feature allows users to crop the part they need, leave others behind, and create a video that well fulfills their purpose.
Add Text
Users can easily add text to the video they are making by selecting the option to do so at the top of the menu bar. There are several designs that the user can choose from. If you are using the advanced version, you will be able to choose typography, size, shadows, etc.
Add Filters
Adding filters to the video gives it a different look and makes it more eye-catching. When you go to the filters option in the top menu bar, you will come across 17 filters that can be used for videos for free. You can also adjust these effects accordingly.
Insert Widget And Overlay
Widgets are an extra element that you can add to your videos to make them look different. This tool has several widgets available for YouTube, Facebook, Instagram, etc. Layering your video adds a finishing touch to it and this tool gives its users the ability to do that.
Transition And Speed Modification
Adding the transition to the video makes it attractive and there are many of these effects available in this tool that you can use. These include crossfade, fade, zoom, erase, etc. You can also reduce/increase the video playback speed accordingly.
Insert Music
Videos are not complete without adding music. You can easily add music by selecting it from FlexClip or uploading your own. However, if you upload your own, you always give credit to the songwriter.
Free Tools
Free Screen Recorder: Record your screen to make a tutorail video.
Free Video Converter: Useful for compressing, converting, and resizing a video.
Free Video Trimmer: Instantly trim videos to the desired length.
Free Video Metadata Viewer: This allows you to extrapolate all the information from a video.
Free GIF Maker: Make a funny gif for free.
Free Slideshow Maker: Upload your photos and choose a template to enrich your slideshow.
These are some of the best features available in this online video maker. Once you have applied the ones you prefer among them, you can save the final video by exporting it to MP4. This tool helps to create easy and effective videos quickly.
What Makes FlexClip An Easy Video Editor
Millions of Ready-Made Video Templates
Its use is very simple. Once you log in and choose whether to use the free Plan or extend it by purchasing an add-on package, you can start creating. The first step is linked to the choice of the template and deciding where to start. There are many video templates for every taste and need. Once the video template has been selected, it is possible to customize it.
You can immediately add or remove videos. In fact, we will be able to draw material directly from an archive with an almost unlimited quantity of material to be used, others obviously using our own videos and images.
Royal-Free Media Resources
Editing via FlexClip makes things really easy. There is no wasting time searching for material, the ability to create videos within everyone's reach, and unique ease of use. Furthermore, whenever we work on a project, we will never have to worry about losing what has been done simply because it is saved in real-time.
No Download or Experience Required
Using a service like this allows everyone to make videos without the need for a modern and powerful computer, without having specific skills. They may seem like little features, but it often becomes unthinkable to use professional programs to accomplish something. You don't have to waste hours in learning tutorials and trying to figure out how to apply some effect, some music.
Cloud-Stored Function
Once the video has been finished, you can proceed with exporting the video in various resolutions. Once the video is exported, it can be used for any activity such as: uploading it to youtube, advertising on social networks, corporate videos and much more. The important thing is that: all the material that is used and present in the stock can be used freely. You will not have to worry about copyright and image rights.
FlexClip Pricing Packages
FlexClip is offered in three price ranges to satisfy all needs. It ranges from a free plan to something more challenging. As I know very well, it is necessary to specify that we are always very reluctant when it comes to making some investments. This editor does not only offer an editing tool but an entire stock of images, videos and music that normally include a search on specific sites, which are also not always free.
You can get started with FlexClip for the lowest price. Not only that, but you also get a free version forever! You get a variety of options to choose from, such as a monthly, yearly, or lifetime subscription.
Whichever pricing plan you choose, you'll get all the great features. The media files consist of 4,000,000+ royalty-free music, tons of HD videos, photos, stickers, templates for your convenience!
Free Plan
You can only save videos in 480p quality.
You can only save 12 video projects with this package.
You only get access to one royalty-free music audio per video.
The duration of the video is only 1 minute.
Basic Plan: $ 5.99/Month
Videos can be saved with quality up to 720p.
You only get access to one royalty-free music audio per video.
You can save up to 50 video projects.
You can use your watermark on videos.
You can upload custom fonts.
Plus Plan: $9.99/Mo
You will get five stock videos per project.
You can use custom watermarks on videos.
You will get 30 GB of cloud space.
This Plan lets you save unlimited projects online.
You can upload custom fonts.
Business Plan: $ 19.99/Month
This Plan lets you access unlimited stock videos per project.
You can use custom watermarks on videos.
One can save unlimited projects online.
You will get 100 GB of cloud space.
You can upload custom fonts.
Steps To Get Started With FlexClip
When you visit the site, you will get the instructions! And it's very easy! You don't have to spend hours understanding the FlexClip module. Even if you are a newbie just starting your video editing work, you will not face any difficulties! Let's get started with your first video editing together.
1. Visit www.FlexClip.com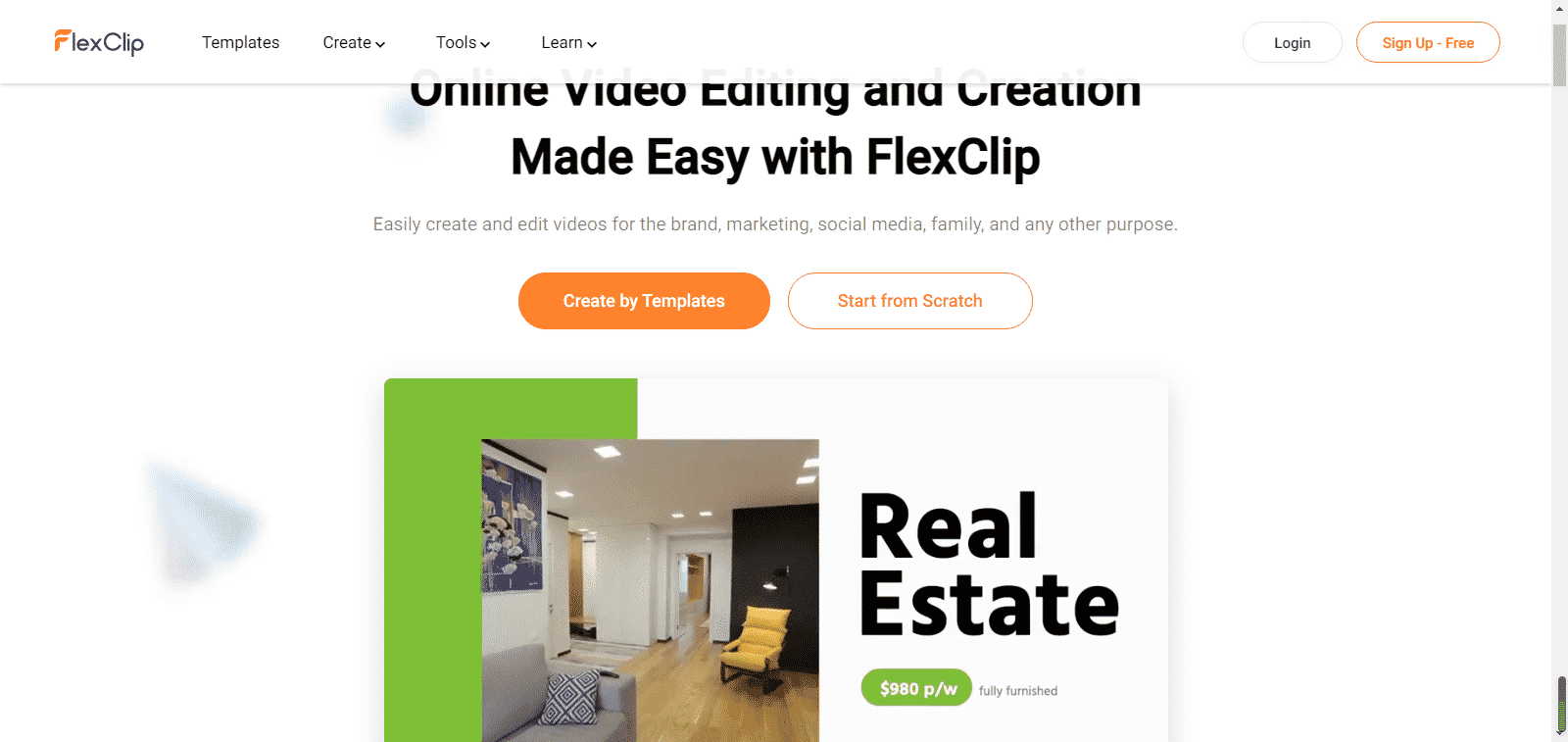 Since it is a web-based tool, you should visit this site. Once you're there, you can start editing the video! Registration is optional, so you can do so even after editing your first video. However, if you want to experience all the features, it is best to register an account with this online software. The registration process is very quick, and you can also register using your Google or Facebook account.
2. Define Your Template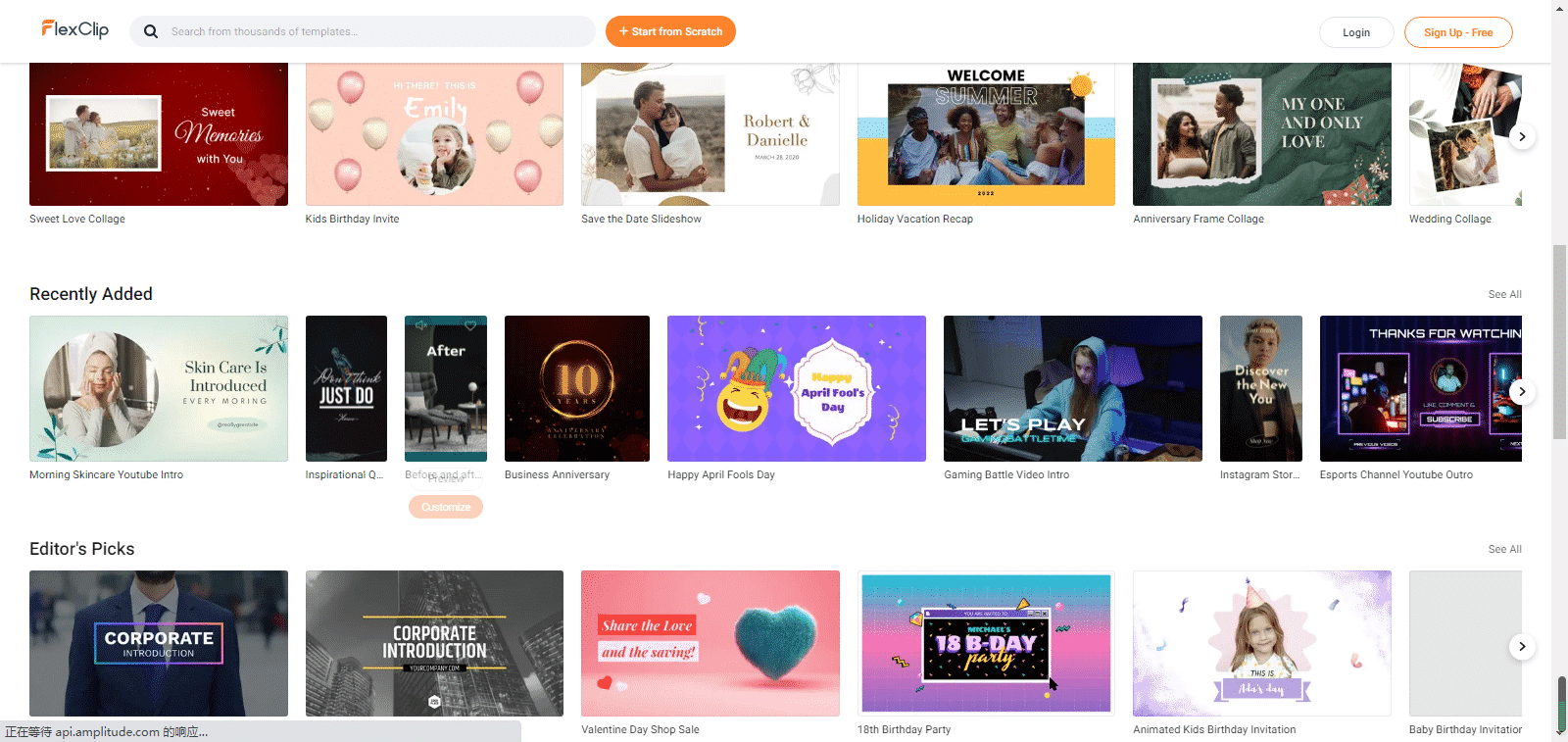 After the registration process, you will enter the dashboard area. There, you get two options: you can create videos from scratch or choose a pre-configured template.
The first option lets you edit on a ready-made template, and the last one is a blank template that requires you to set everything up from scratch. After selecting a template, you can choose from the existing collection. You can choose anything according to your choice. For example, if you want to promote makeup products, you can start by searching for the keyword 'Makeup.'
3. Customization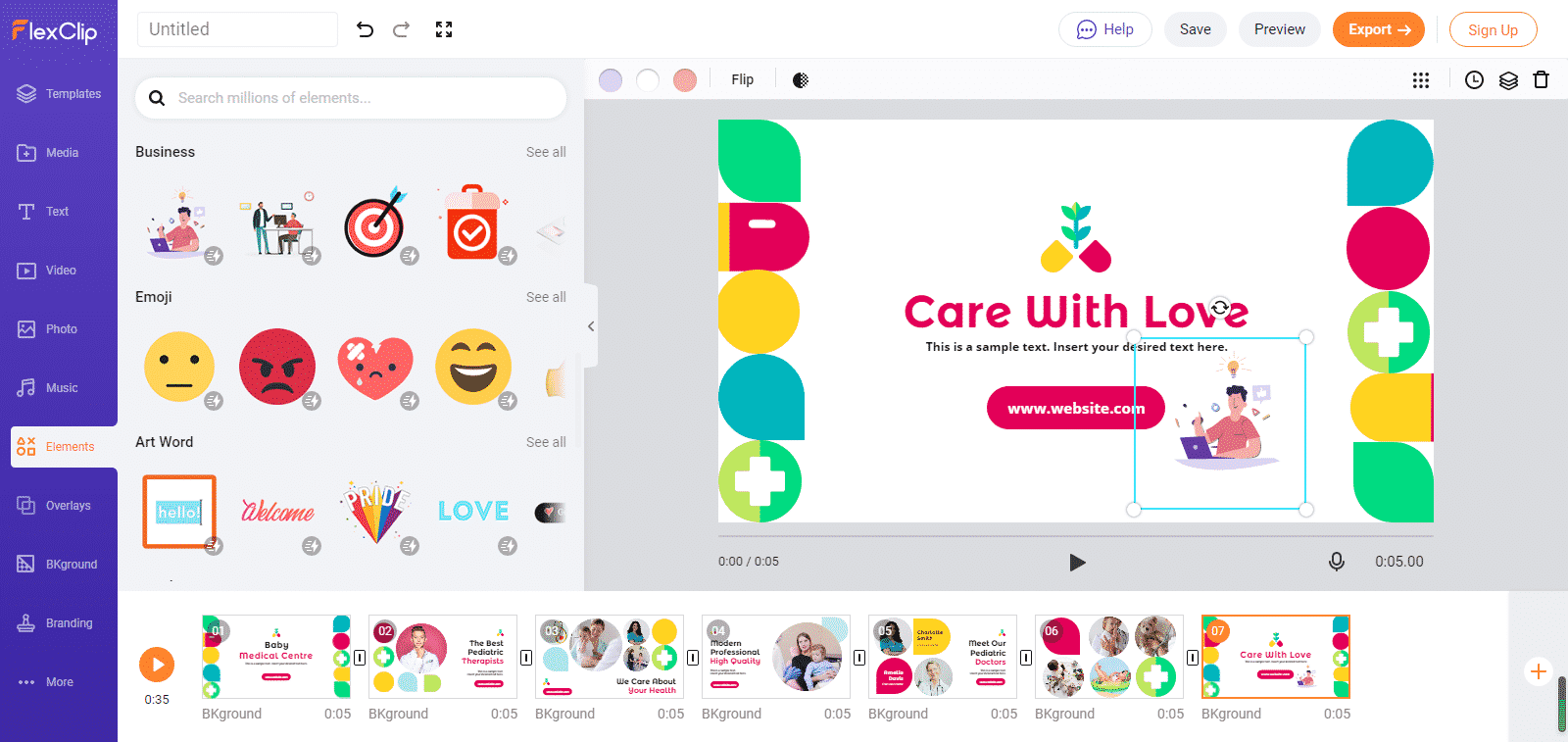 As soon as you choose a template, there are several attributes that you need to learn and understand. You can add captions to your videos in a similar way to Canva. According to your needs, you can add text to a specific part or to the whole video. Now on to music, you can upload a track of your choice or choose one from royalty-free music. You can even add your own logo to the video if you're on a paid plan.
You can also add some transition effects when you're done editing your video. For example, you can adjust brightness, contrast, filters and other video effects. On the downside, you can see the storyboard of the video editor. It makes you feel like you are editing a slideshow.
4. Preview And Download
Once you are done with your final video, you can preview the video. If you are satisfied with the result, Download the video. According to your needs, you can choose the video quality. You can also export the video as a GIF and set the customization according to your choice.
Conclusion
The goal of video editing is your passion or profession, no other platform than FlexClip will be a better choice! You can always start with the free Plan to get an idea of the platform. FlexClip Video Editor may not provide in-depth video editing features like Adobe premiere pro, but it is the best solution for beginners.