A VPN encrypts all of your internet traffic, hiding your actions from your ISP and making it more difficult for others to monitor and track you online. Ivacy VPN provides security at a low cost and has servers located in far-flung regions of the globe. On paper, it seems to be a great VPN solution, but is it really worth the investment? In this blog, we will look at Ivacy VPN, its features, and whether or not it serves as an excellent one-stop-shop solution for a VPN. Without further ado, let's dig in.
Value For Your Money?
You may connect up to 10 devices at once with an Ivacy VPN account. That's more than double the industry average and enough for the ordinary user or even a family. However, we've seen that some VPN providers are removing this restriction entirely.
Ivacy VPN has a split tunneling function that allows you to choose which applications should use Ivacy VPN's encrypted tunnel and which should not. That's especially useful while gaming with a VPN, since you can avoid the VPN's adverse effects on gaming performance while staying secure online.
For an extra $1 per month, you can spice things up with port forwarding. That's a feature we don't see very often, and it's probably only beneficial for advanced users. In Australia, Canada, Germany, Hong Kong, Singapore, the United Kingdom, and the United States, Ivacy VPN also offers dedicated IP addresses for $1.99 per month. Ivacy VPN features port forwarding for free if you choose a dedicated IP, which is outstanding.
Protocols Being Offered
Because VPNs aren't a new technology, there are many alternatives for setting up a VPN connection. We recommend OpenVPN and WireGuard since they are both open-source and can be scrutinized for any flaws.
The Windows app supports OpenVPN (presented as TCP and UDP in the interface) and the older L2TP protocol and the excellent IKEv2 protocol. WireGuard's absence is understandable given that it is still a relatively new technology at least for the time being.
Servers And Locations
When comparing VPN providers, it's important to look at where each one has VPN servers. With additional locations, you'll have more options for spoofing your location and a better chance of finding a nearby server no matter where you go.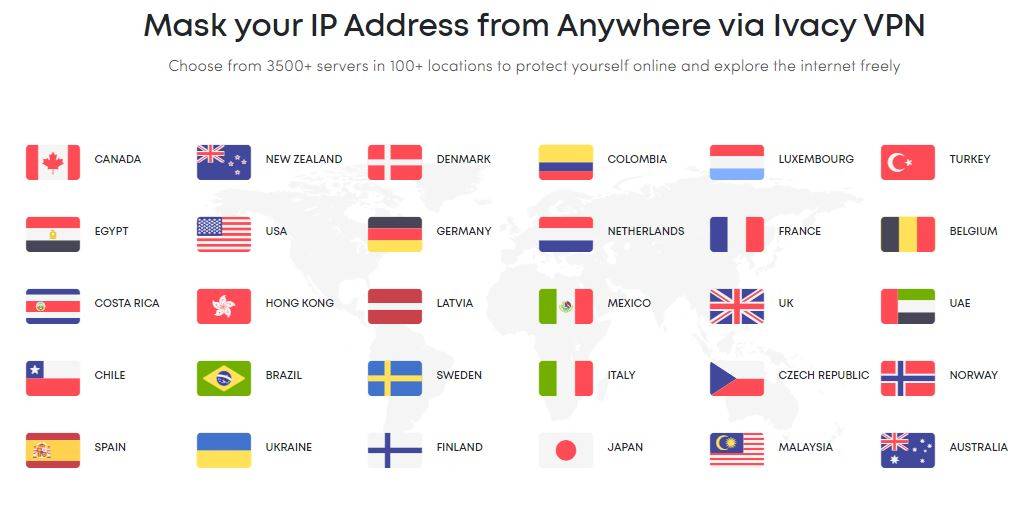 Ivacy VPN's website claims to have servers in over 100 countries; however, there are only 62 on the server list online and 60 in the app. That's still a little higher than the industry average. The majority of Ivacy VPN's servers are in the United States and the United Kingdom, but the VPN provider should be commended for its remarkable network of servers. It features servers in South America and Africa, two places that other VPN providers typically overlook. It also has VPN servers in places like Vietnam, Turkey, and Russia, notorious for their oppressive internet rules.
Ivacy VPN has 3,500+ servers, much more than the industry average of 1,500.
Certain VPN providers use virtual locations. These VPN servers have been set up to seem someplace other than their actual location. It is not unusual to employ virtual servers as long as they work. Several locations are highlighted as virtual in the Ivacy VPN app.
There are virtual servers as well as virtual locations. These are software-defined servers, which allow several virtual servers to be hosted on a single physical unit.
Privacy With Ivacy?
Because VPNs have access to any data that comes through them, it's critical that they preserve your privacy and don't sell your data.
Ivacy VPN's privacy policy is simple and straightforward. It follows a trend of simple policies to read and gets points for the effort.
Ivacy VPN's policy states that it does not collect personal information. According to Ivacy VPN, the brand does not collect "online surfing activity, connection logs, VPN IPs issued, originating IP addresses, browsing history, outgoing traffic, connection timings, data you've viewed, and/or DNS queries performed by your end are all logged or monitored. We don't have any data that would allow us to link particular activity to individual people." This is precisely what you'd expect from a reliable VPN provider.
User Data
Ivacy VPN's policy goes on to list the only data that the brand does gather and why it needs it. To carry out invoicing and other site services, the corporation mostly keeps the name, email addresses, and payment methods. The policy specifies that data on "inactive customers" is deleted after 12 months.
The VPN provider knows the nation of origin for VPN connections, according to Ivacy VPN's privacy policy. Ivacy VPN, like many VPNs, collects user diagnostics such as aggregate bandwidth consumption and the vague "application usage." This does not contain personally identifiable information, but it does include crash, OS, and device information.
Ivacy VPN's privacy policy recognizes the usage of cookies and gives links to instructions on how to deactivate them.
Jurisdiction And Ownership
PMG Pte. Ltd owns Ivacy VPN, based in Singapore and operates under Singaporean law. It is worth noting that a company's quality can be decided purely by its location, but it is an essential factor to consider.
Ivacy VPN's policy, like that of the finest VPN providers, states that it aims to save as little useable information as possible to safeguard users even if they are served with a legal notice.
Auditing And Transparency Reports
Only those VPNs that provide transparency reports detailing their interactions with law enforcement should be favored and who provide third-party audits to ensure that their security and privacy policies are up to date. Ivacy VPN's website does not yet have a transparency report. It has also not undergone a third-party assessment of its infrastructure and privacy policies. The trade association ioXt has assessed and approved Ivacy VPN, although this assessment seems to be limited to its Android app.
Evaluating Ivacy VPN Performance via Apps
Ivacy VPN has dedicated apps for all major platforms like Android, iOS, macOS, Windows, Linux, etc. Let's look at Ivacy VPN's performance on some of these popular platforms.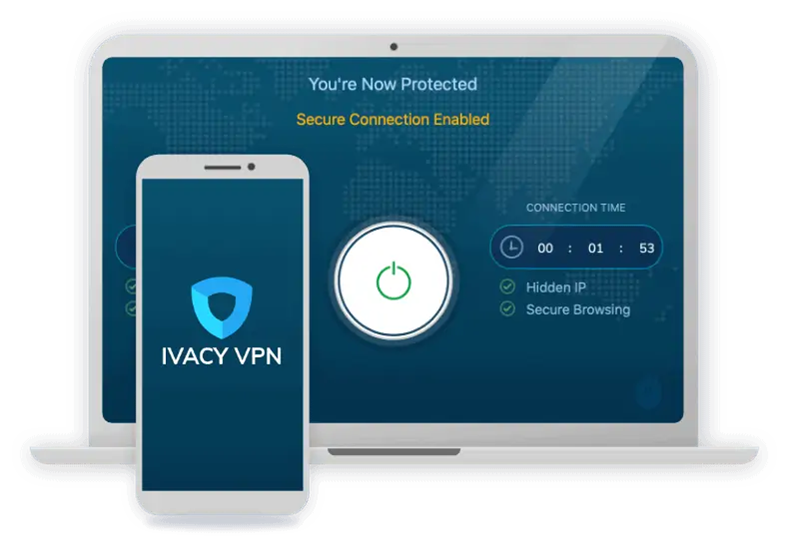 Windows
Ivacy VPN's selects a server for users by default, specifically the one nearest to you geographically.
Ivacy VPN seems to recognize that most users would use a VPN to view geo-restricted content, and it provides a dedicated Streaming area for them. Select "Channel" to have access to specified services. Netflix, HBO Max, BBC iPlayer, and other services have their own buttons. Netflix US, for example, is only available in the United States. You can access Netflix video while connecting to a US-based Ivacy VPN server even without picking one of these settings. However, your results may vary.
You may also enable Ivacy VPN's Kill Switch on the Settings page, which prevents web traffic from your system if the VPN is disabled. There's also an IP/DNS leak prevention option, which is turned off by default. Once enabled, you will not have to worry about information leaks.
macOS
There aren't many features in the app for macOS. It lacks the Kill Switch and split tunneling features. The Ivacy VPN app for macOS can simply startup, connect automatically, rejoin automatically if the connection fails, and disconnects from the VPN when the user closes the app. It's all quite basic: website blocking and multi-hop functions are unavailable.
Maybe you don't need a VPN with a lot of functions. You could just be worried about your online privacy, and there is nothing wrong with that. After putting Ivacy VPN for macOS to the test by connecting to servers in Austria and Vienna, the IP address was concealed, and DNS information was secure.
Android
The Android app's design is remarkably similar to that of Ivacy VPN for iOS.
The Kill Switch and split tunnelling features are included with Ivacy VPN for Android. Multiport is another feature that chooses the optimum port for connection.
There were no IP address and DNS request leaks during testing. After connecting to a server in Quebec, Canada, the real IP address and DNS information remained secure throughout the test.
Videos were streamed on YouTube after connecting to the Canadian server. Each video took around 10 seconds to load, but there was no stuttering or buffering once it did.
Usability
Ivacy VPN is very user-friendly, with simple-to-use applications. When you connect to one of Ivacy VPN's servers, you'll see the location of the server you're connected to and the length of time you've been connected. The software also has specific features for downloading, viewing, and unblocking geo-restricted material.
The Ivacy VPN apps are easy to use.
Ivacy VPN's website is easy to use and well-designed, but there are many intrusive pop-ups.
It's quick to subscribe to Ivacy VPN.
Ivacy VPN subscriptions allow a variety of payment ways.
Ivacy VPN has a restricted free version that anyone can use for testing.
Connection problems occur from time to time, which may be inconvenient.
Ivacy VPN's customer service is easy to contact and quite helpful.
Plans and Pricing
Currently, Ivacy VPN is offering the following plans:
1 Month for $9.95
1 Year for $3.99/month
5 Years for $1.19/month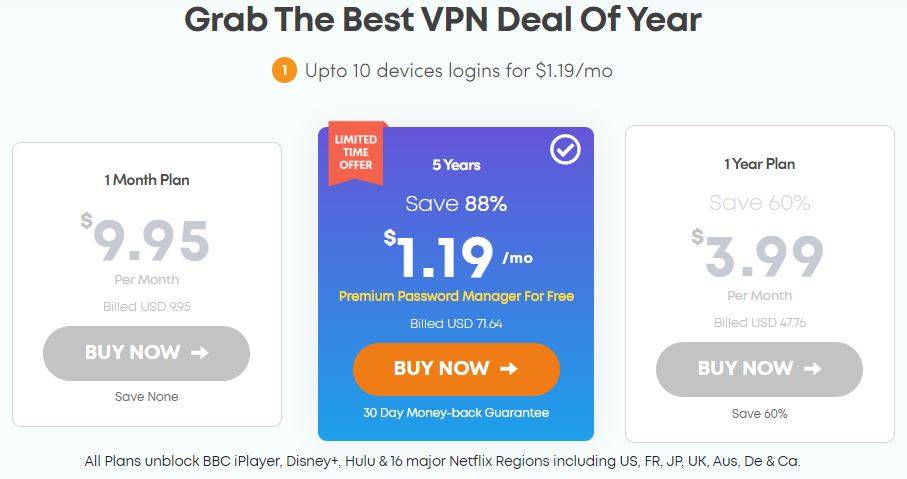 Users looking for maximum value for their money are better off opting for the 5-year plan. Considering the savings, users should not even consider the other plans. Interestingly, no matter what plan you opt for, users will get the same features across the board.
The Verdict
You wouldn't expect much from Ivacy VPN, given its low price and low profile. But then again, the VPN provider excelled in every way. It has adequate speeds and guarantees access to geo-restricted content on streaming platforms like Netflix and BBC iPlayer. It provides customers with limitless bandwidth and P2P-optimized servers, ensuring that torrenters are not dissatisfied. Furthermore, security and privacy are on par with many of the industry's leading VPN providers.