SEO Content Template: Google algorithm is changing rapidly & getting good ranking on google search result is difficult. but still one think that you can't deny that the Good SEO friendly content is the king. Content writing is the art of explaining & educating visitor through your Article. Even Google wants the same, am i write ? , off course your answer is yes.
Google wants that their user will get most appropriate content. Only this is the reason that google always shuffle search engine result page & check article through Click trough rate (CTR).
There are millions of content on Google if you search on particular keyword. Same problem Google also Face & it is very difficult for google also to produce best Top relevant results on SERP.
How Google Analyze best Content & put it on there shuffling algorithm list?
Simple answer is google analyze best SEO friendly content through there Algorithm i.e. Google check Keyword, Title length, content length, backlinks, meta description & many more.
How can i write SEO friendly content?
For writing SEO Friendly content you need Analyze Google Search engine result page & your competitor which are showing in Search engine results. you need to collect some data from those article that are already ranking on Google. Below data that you need to collect :
Title of top 10 result & there length.
Meta description that are showing below the Title.
Content Heading Structure of top results ( H1, H2, H3).
Topics that are covered in result page article.
Backlink profile that you need to create ( you can get it from Free SEMrush Demo tool  or Click here)
Above thing is very time consuming for this you can hire Any content writer. and give him SEO Template for content.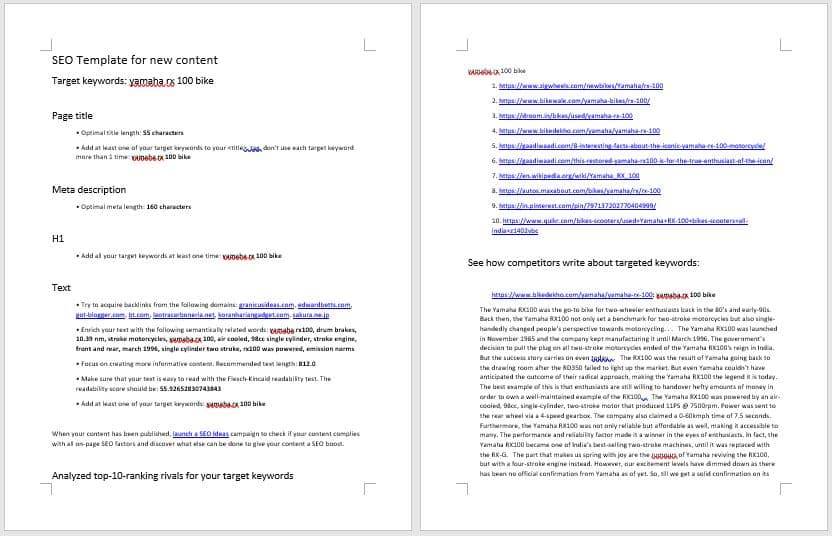 How can i create SEO template for content writing?
Content writing is the heart of SEO & Website traffic. There is no doubt it is very time consuming & you need to focus on writing rather than analyzing Search result. For all of this it is important Let this task done by SEO tool.
Here, I will show you how to create SEO Template for SEO writing (Download Demo Template).
1. Login or Sign up in SEMrush Account.
2. Click on SEO Content Template.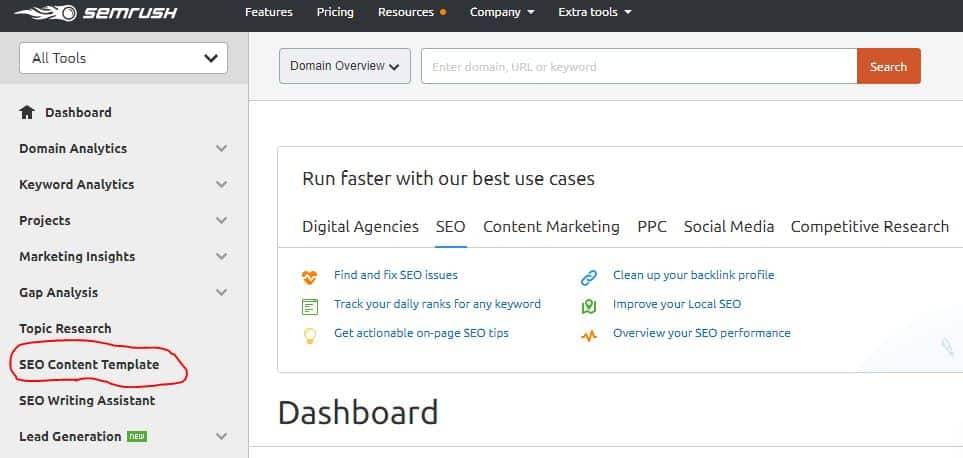 3.  Enter your Keyword & Click on Create SEO Template

4. Click on Export to Doc & you will get Word file for SEO template.
What you will get in this SEO template?
As i explained earlier in this article, it will save your time for exploring on google search results to find what your competitor are doing to rank on google. Here what you will find in this template.
Page title recommendation & optimum length
Meta description length.
H1 heading recommendation
Backlinks that need to acquire
Enrich your text with related secondary keyword
Text length recommendation
Readability score minimum limit
Top-10-ranking rivals for your target keywords & title
How your competitor is writing
When your content has been published, Launch a SEO Ideas campaign to check if your content complies with all on-page SEO factors and discover what else can be done to give your content a SEO boost.
Organic traffic is the main part of digital marketing & How to get organic traffic tremendous amount you need SEO. For any business either it is retail or online , it is only sustain when they have customer. advertisement is the good option but it needs money & it is not good if you are planning for long time. research says 80% of businesses closed because of unplanned Strategies. Basically it is very important to get automated platform & SEO tips-tricks to get customer.
So to be on top of google search you need to do SEO & use SEO tool. Being a Digital marketer  i personally use "SEMRUSH" SEO tool to achieve my SEO goals & make strategy for my clients. Here you will learn about SEMrush Use , Step by Step Tutorial (Give free Trial).