Building a website is vital to enter this digital era. Most importantly, small businesses want to enhance their brand credibility and online reach. Several web builders are available these days. But most of their charges are not very valuable with features. Therefore, individuals should pick the best website builder after deep research. But don't worry, we are here to help. Let us introduce the most popular, affordable, and easy-to-make site builder for small businesses. WEB.COM, an all-in-one web development service provider in the market. Web.com DIY builder is one of their services that allow owners to make websites from scratch.
How do i get benefited with Web.com DIY Website Builder ?
What Is Web.com Website Builder?
Web.com is a USA-based web development and domain registered company. From 1997, this company successfully provided its services to small businesses. Web.com primarily focuses on small retailers, online stores, and businesses around the globe. That's why this service provider includes the most affordable, effective, and quick web solution for clients. More than 3million plus customers find their web services valuable.
Web.com DIY builder is their most popular tool for online marketers. Users who want to create unique, professional, and quick build websites from scratch. Simplified editing and drag-drop patterns are vital features in making site building hassle-free for non-coders. That's not the end, Web.com DIY builder offer many more for their valuable users.
Make Website Building Simplified With Web.com DIY Website Builder
Many business owners hire expensive website developers, coding experts, and others. Indeed, creating a unique and professional website is challenging for non-coders. That's why web development services are required for users. Web.com DIY builder is one of those services known for their simplified website editing which is much simpler to WordPress site.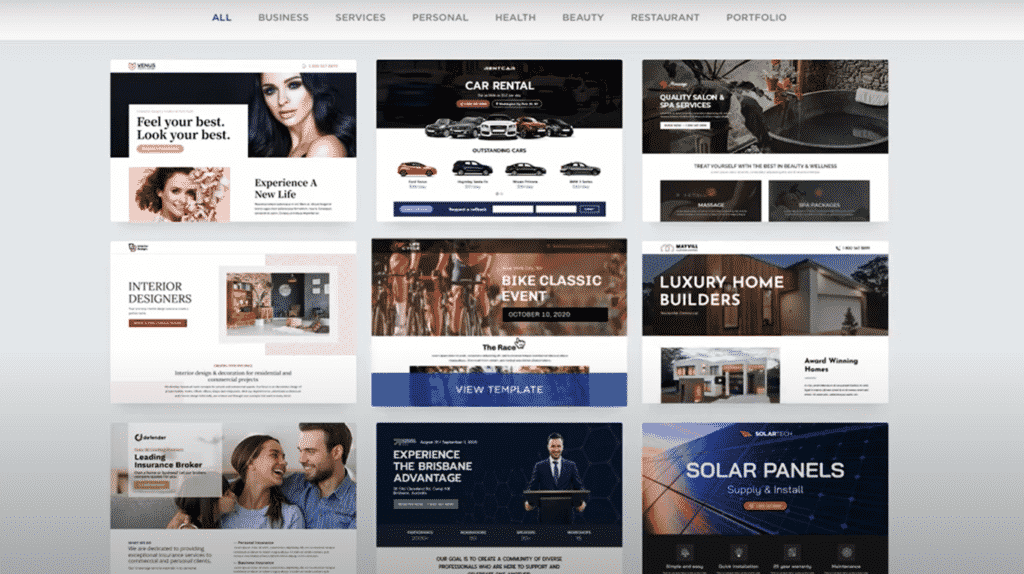 Flexible Builder
Many web service providers include bulky designs that make site building stressful for beginners. That's why Web.com offers an easy-to-navigate site builder.
The flexible Web.com DIY website builder allows you to customize your site by simple drag and drop. Each layout is user-friendly and responsive to make your site look professional. Besides, the designs are customizable as per your choice.
Easy Customization
DIY builders include many customizable options for their users. Layouts, images, videos, etc., can be removed, added, or customized anytime. Besides, the builder offers pre-designed content blocks to make headings more attractive. These blocks allow you to locate galleries, banners, photos, etc., at the right place. Therefore, you don't need to run your mind , web.com DIY builders have already created multiple designs for your site.
Hundreds of Templates
Web.com: DIY builder with over 150+ professional-made templates to use. Each design has unique layouts for specific website types. Besides, you can customize the designs as per your need. You can get templates specifically for blogs, e-commerce stores, and other businesses. Therefore, the DIY builder allows you to create any site you want.
Photos And Videos
Images are the things that influence consumers to click on your products and services. However, finding copyright-free photos is challenging. That's why the DIY builder offers 2 million +free stock images to place on your site. You can crop and resize the pictures for great visuals. Besides, videos can be embedded easily from youtube and put on your website. All these features help to create an engaging website for your business.
Profile Links Integration
Creating an online community is vital to reaching new consumers. A professional Website always includes easy-to-navigate social buttons. Talking about DIY builders that offer customizable profile buttons to enhance brand CTA's. Besides, you can also embed social feeds, simple sharing features. It helps your brand to connect with consumers easily.
Scalability
Now that's an exciting feature you can get from DIY builders. The scalability of your site comes by monitoring the performance of your site. In this case, web.com provides a dedicated data dashboard for your live website. Therefore, you can watch the real-time traffic, clicks, trend charts, and more. Besides, you can also integrate with google analytics to show the current status within this dashboard.
Turn Your site To Online Store & Sell Products With Web.com DIY Website Builder
You can create a website for any reason within the web.com DIY builder package. Besides, you get an opportunity to turn your site into an online store.
Indeed, Web.com DIY builder offers you to create a responsive and professionally made E-commerce site. Besides, they also provide the required tool to monitor your online store. So the followings are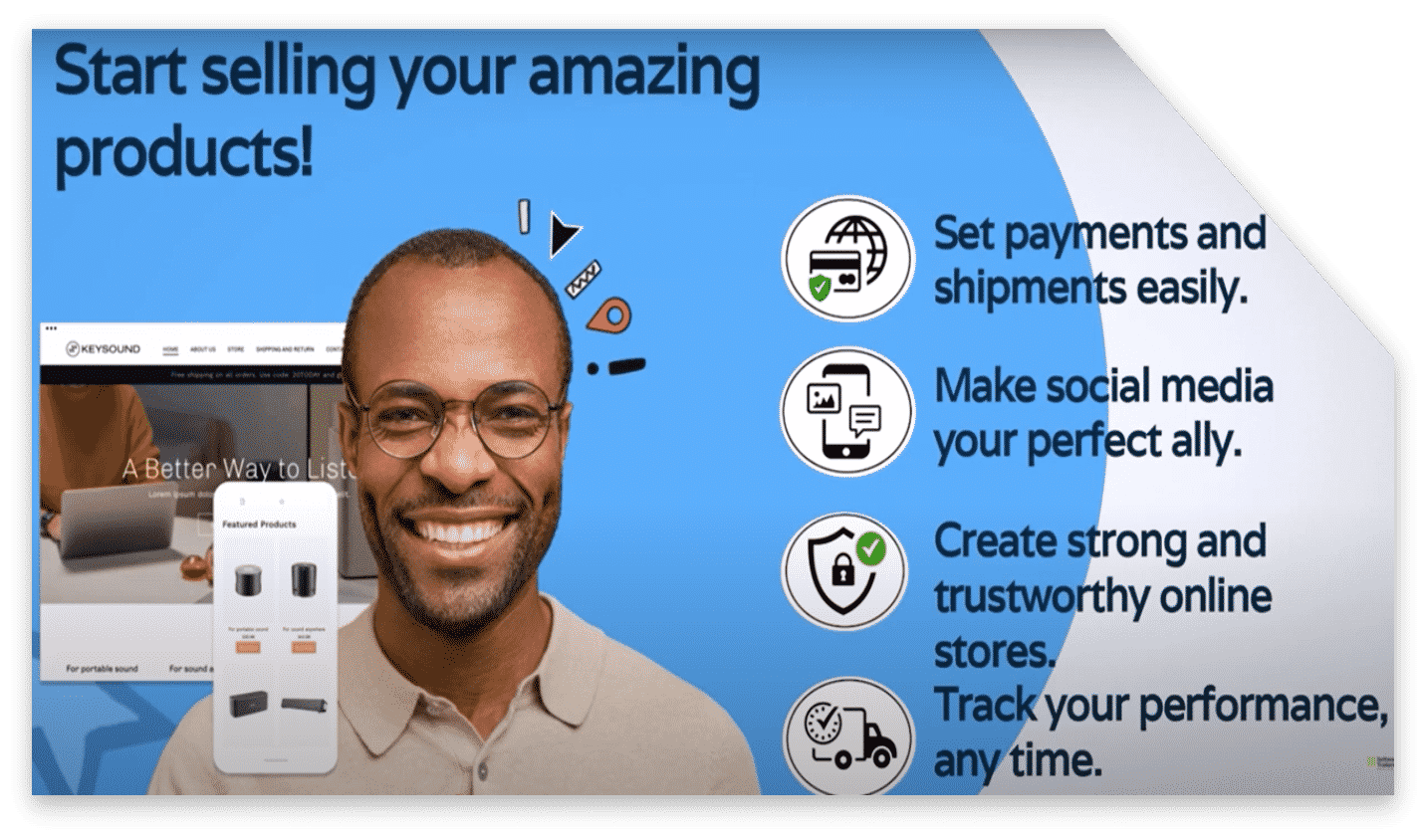 Store Template
Website Templates work to make a first impression on the customer. Not all designs are compatible with eCommerce stores. That's why the DIY builder includes some selective, responsive, and unique online store templates. Therefore, a user can quickly select the designs and live the store online.
Monitor Stock And Product Inventory
Managing the stock and inventory is vital for online stores. Bulky designs can mess your site. That's why the DIY builder includes a well-organized stock and inventory management interface. Thus, a user can easily remove, add, and customize the product quickly with simple clicks. Lastly, you can also get remaining stock alerts in your dashboard.
In-Built Shopping Cart
That's another cool feature you get from the DIY builder package. In-built shopping carts allow your users to save products to buy later. Web.com provides a user-friendly and easy-to-navigate cart option. So your consumer gets a visible header and direct link with the page.
Forms & Maps
Connecting with consumers is crucial via online stores. Form and maps are such options that redirect your brand to the exact location. That's why your online store allows you to submit the followings
Custom contact form
Add Fields
Control validation
Google map placements
It helps consumers to reach your physical store with the correct details.
Web.com Website Builder Review By Expert
There is no Free trial, but users are allowed to claim 30 days money-back guarantee.
Users can reach the support team via toll-free number.
This web service provider is most active on twitter and Facebook.
DIY builder package called "DO IT YOURSELF" web service. It is more valuable for small retailers or online businesses who want to start from scratch.
Helpful Ad-dons for secure payment process, reputation management, etc.
99% Uptime recorded from web.com hosting server.
Additional Services Web.com DIY Website Builder
Web.com DIY builder provides multiple features to grow your online business efficiently. In addition to other web development services that offer less than their charges. But web.com is one of those providers that specifically focus on small businesses, stores, and retailers to grow. So below, discuss some other offering features from Web.com DIY builder.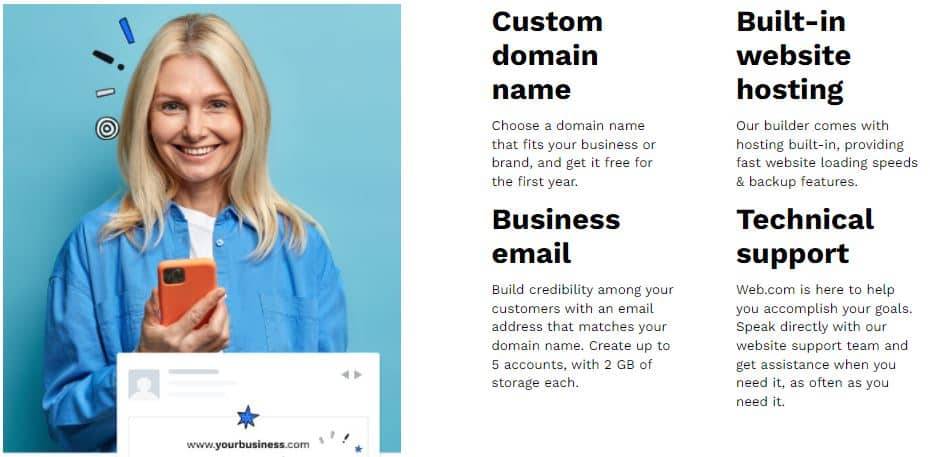 Free Custom Domain
DIY builder package comes with a free domain for one year. Besides, you can customize the name and select the domain that suits you. It is free with the package but charged while you renew. You can take the service or leave as per your choice. But the provider is committed to ensuring domain privacy within the period.
In-Built Hosting
DIY builder also includes a dedicated server within the package. Therefore, you can save additional fees that you pay for buying third-party hosting. Web.com server is available for multiple countries. Besides, they offer 2X loaded speed and 99% uptime promises. Lastly, your website will be SSL certified for the first year.
Business Email
The DIY builder package also includes a business mail along with hosting and domain. You can create up to 5 accounts to connect with your consumers. Besides, your email contains 2GB of storage to keep numerous data safe. It helps small businesses that run local stores and want to grow online.
Technical Support
Whatever services you pursue from Web.com. Their round-the-clock service team always keeps your back to help anytime. Therefore, you can contact the support team via mobile, email, and other options. Most users love their fast, effective, and safe support services.
How To Make Website By Using Web.com Website Builder?
Visit official website of web.com & Click on "Build A Website" Button.
Here you can select domain with 3 available option.
Next you have buy plan available on web.com pricing page.
Now just checkout with you payment detail & follow up below video to make website
Why Should I Choose Web.com Website Builder?
After buying any hosting services, users choose different development method to make website. However, most users don't have time to organize their site independently & don't need complicated website. It is time-consuming and needs some essential skills to design a site.
That's why Web.com Website Builder comes to minimize your effort. Web.com provides professionally made custom web designs templates. So that users can select pre-loaded layouts with simple clicks. Your business gets online with custom attractive design. Besides, some excellent features they offer includes
Hundreds of custom web designs & templates
Light and compress designs that load faster
Responsive designs
Professional designs and content
Quality controls from start to end by the provider
Timely updates and monitoring for your site with analytics
Conclusion Of Web.com DIY Website Builder
So above are the detailed review of web.com DIY builder. Users who have physical stores but want to grow online can pick this fantastic web development service. The provider includes numerous features that most providers do not have. As mentioned, this web development service focuses explicitly on retailers, online stores, and small businesses. So if you are that person, just go and enjoy web.com: DIY builder service now.
FAQ's Of Web.com Website Builder
Is Web.com Good Web Builder?
Web.com is an extremely reliable & easy to use web builder. It could provide more features to justify it's price, but the features provided are sufficient to create a basic website.
Is There An App for Webcom? 
Site builders Webs.com has an App, with the goal of helping members to manage their own website using powerful, dynamic web applications without the need to use desktop.
Which Country is Web.com Based?
Web.com Group Inc. is an American firm headquartered located in Jacksonville, Florida that offers domain name registration as well as website development solutions.
What Is The Purpose of Web.com?
Web.com gives you the power by providing an easy-to-use tools for designing websites. Select from a variety of web design templates and then personalize your style by uploading images and adding your logo. In a single click and you're ready to publish your website and your web design will be viewed online.
Web.com DIY Website Builder Review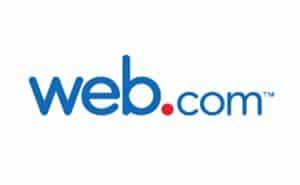 Name: Web.com DIY Website Builder
Description: Web.com DIY Website Builder is the one of the easiest & reliable web builder.
Offer price: Check Website
Currency: $
Operating System: All Supported
Application Category: Website Builder
Author: Shubham Mishra
Product: Web.com DIY Website Builder
Technically, Web.com offers web-based website builder that is a DIY application & also offers the ability to sell products on online web store. A website builder service offers a lot of promising features in pre made template to grow your business.
Features

Usability

Accessibility

Price
Pros
Easy to Use Features
30 Days Money Back
Responsive Feature
SEO Friendly
Cons
Limited Time Discount Offer
Not good if you are planning a script based website