Long tail keywords : Long-Tail keywords are more specific and longer terms. They are mostly used during the purchase of products or while using a voice search & for any query. Mainly, it increases the organic traffic on your website. Also, it is necessary to create blogs that focus on long-tail keywords. However, using long-tail keywords is highly valuable if you know how to use them.
If a customer search using long phrases, he tends to find the actual results. Most of the shopping sites convert their sales by using long-tail keywords because they can impact more than short keywords. If a customer search using long phrases, he tends to find the actual results. Most of the shopping sites convert their sales by using long-tail keywords because they can impact more than short keyword.
What is Long Tail Keyword?
Long Tail Keywords are mostly searched keyword which contains long phrases, that usually search related to any specific query. Long-tail keywords are not very popular. But, they have a high conversion rate. Most of the searches are non-popular and specific.
They come under the category of low competition or low search volume and high conversion. Low competition is due to the use of specific keywords. Whereas they can establish communication between visitors and your business. Thus, the use of them can be more profitable. The use of specific long keywords helps in the high ranking of websites. To understand more clearly, let us look at the example of buying a product.
Steps involved while purchasing
Awareness of product
Look for more information to finalize the product
evaluate alternative options
decide to purchase
make a transaction for buying a product
evaluate the quality of the product after delivery
In the above steps, you have to target customer who is about to decide for purchase. Because, while deciding, they are using specific words to search for the desired product.
How many words is a long tail keyword?
There are no fixed criteria for the word limit. But, it consists of 3-4 words. Mainly, it is a concise language that can be used by a visitor.
You can decide the length based on the behavior of users for a particular product or service. Thus, using those words, you can write a blog or content. Moreover, you will be able to improve your SEO.
Why long-tail keywords are important?
Long-tail keywords are popular in content writing, bloggers, and SEOs. Moreover, there are many successful examples available in the market.
57% Sales of amazon by using a long-tail keyword 
It becomes easier to know customer intent when these keywords are used. Also, customers search for those products which he is not able to find offline. And those products perform best in organic search.
Let's take the example of clothing. In clothing, people use long-tail words to find a specific category of products. Also, whenever you find any product on a search engine, you will get the results of products for the amazon site.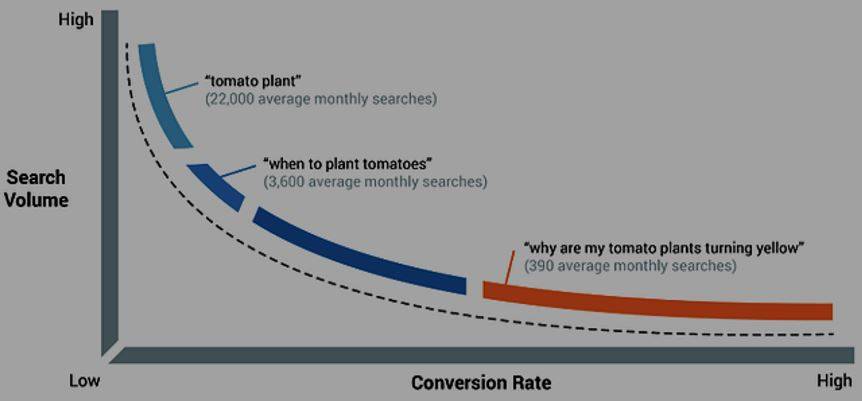 River pools and Spas generation of $2 Million Sales
No matter how much you take efforts, it will fail definitely without a strategy. River pools and Spas is one of the famous swimming pool websites in the world that can attract 500000 visitors per month.
Instead of traditional methods, he made efforts to know the audience and their questions. Many of them wanted to know a single question again and again before purchase.
Thus, he made blogs with long-tail search and its one blog received a huge success and generated $2 million in sales.
20% increase in WPBeginner organic traffic in 2 months
Various tools are available to find long-tail keywords. But, WPBeginner is an authorized blog develops WordPress plugins and other tools related to digital marketing.
Many bloggers used a HitTail which is a premium long-tail keyword search tool. It helps to find highly used keywords. Also, it helps to track your best performing keywords which may help you in the future for improvement in your blog.
How to find long-tail keywords?
There are many ways to find long-tail keywords. Below i am sharing you some intresting ways.
Google Auto-fill
One of the easiest ways to find is to search a wide topic on the search engine. You will find the autocomplete suggestions on google. They can be used while writing a blog.
Also, you can check the segment of "People also ask" and bottom page segment of "Searches related to". As a result, you will get ideas of less popular keywords and you can use them in your blog.
Use of Tools
Another method is the use of professional keyword research tools. Also, they will give results in a second.
Ubersuggest
Search your seed keyword to obtain a list of top-rated long-tail keywords.
LSI Graph
It is a marketing tool that helps to find similar keywords for a targeted one. Mainly, it helps in finding context for your page. Also, it gives a list of niche keywords related to your topic of interest.
Alexa's Keyword Difficulty tool
This tool gives keywords based on Relevance, popularity, and Competition. Just type a basic topic on which you want to write. As a result, you will get a list of keywords.
Why people using long-tail keywords for digital marketing
There are 2 main reasons for using long-tail keywords.
1. Less competitive
In Digital marketing, Long-tail keywords are more profitable than short keywords. However, there are 6 million+ searches available for short keywords. Whereas long keywords have less competition. Thus, you must use Long-tail keywords in SEO.
2. High Conversion rates
Long-tail keywords are more specific. Thus, it stimulates customers to decide on a particular product. Thus, the use of long keywords gives high conversion rates.
How do I use long-tail keywords for SEO?
Prepare a list of seed keywords: Collect all the keywords which you have found through various tools, google auto-fills.
Break down the list of long-tail keywords into easy to understand language. Optimize keywords and use them in your content. Thus, it will help to optimize your content. Also, long-tail targeting is as important as your content.
Always identify your target audience based on their buying intention. Also, maintain your content in accordance with them.
Always measure your ranking and traffic. Because you may get new keywords and this will help to maintain your ranking in SEO.